The Mitchell Therapy Pool at VAC (MTP) is an indoor, heated and specially equipped therapy pool for adults and children, and is the only therapy pool in central Vermont. With its warm waters and specialized ramps, the pool provides therapeutic swimming for children and adults of all abilities.
The pool also offers a diversified program of recreational swim lessons, instructional classes at all levels, birthday parties and therapeutic activities.
If you have any question or would like more information about the pool, feel free to contact Cathy Foutch at (802)773-7187.  You can also email her at  mtp@vacvt.org.
Did you know?  
The Mitchell Therapy Pool at Vermont Achievement Center is very pleased to announce we are now offering American Red Cross courses in the following areas:
Lifeguard Certification

Lifeguard Re-certification

CPR w/AED

CPR/FPR

First Aid
In addition, we are also offering American Red Cross Swim Lessons. For more information please see below or contact Cathy Foutch at (802) 773-7187 or Email at mtp@vacvt.org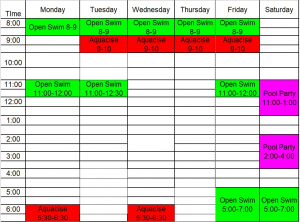 Monthly Memberships/Fees
Monthly Membership
Individual/Family
1 Month $53.00/$126.00
3 Month $126/$176.00
Punch Passes
10 and 25 Days
Adult $55.00 and $134.00
Senior/Disability $50.00 and $121.00
**Child $43.00 and $80.00
Daily Rates
Adult $7.00
Senior/Disability $6.00
**Child $5.00
** Child is Ages 4-18
*Children under 4 FREE with Paying Adult
*
Family memberships are valid for up to 4 family members within the same residence
SWIM LESSONS Winter 2019
Classes start Tuesday, January 9, 2020. Classes are $90 and last for 6 weeks. Enrollments are closed for this session please check back in February! We offer swim evaluations during our scheduled open swims per request.  These are if you're new to the ARC Learn to Swim system or unsure of your placement. Children who are not toilet trained are required to wear swim diapers.  We are using the American Red Cross Learn to Swim System with a WSI certified instructor.  Please inquire about any offered lessons that are not scheduled, as we book them based on interest and class size.
Scheduling/Cost
Cost: $90 for 6 half hour sessions
Dates for Session 3: 
Tuesday: January 7-February 11
Thursday: January 9 February 13
Session 3 Times:
Tuesday 4:00-4:30 Level 1
4:30-5:00: Level 2
5:00-5:30: Level 3/4
5:30-6:00: Parent/Child
Thursday 5:00-5:30 Level 1
5:30-6:00: Level 2
6:00-6:30: Level 4
6:30-7:00: Level 3
Parent-Child (6 months-3 years) 
Parents and children learn together through fun-filled classes to increase children's comfort in the water and build a foundation of basic aquatic and water safety skills.  One adult must accompany each child.  Class size is limited so sign up early.
Level 1, Age 3+: Introduction to Water Skills.  Goals:
For the beginner who is comfortable in the water.
Swimmers learn basics of swimming: bobbing, going under water, supported front and back floating, supported rolling over from front to back and back to front, supported gliding , supported flutter kick, supported front crawl arms and jumping in.
Level 2, Age 4+: Fundamental Aquatic Skills. Goals:
Swimmers should already be able to float on front and back and put their head under water.
Swimmers will work on: independent front and back floating , independent rolling over from front to back and back to front, independent front and back glides, front crawl arms and kicks, back crawl arms and kicks, retrieving underwater objects, and jumping into water over their head.
Level 3, Ages 5-6+: Stroke Development: Goals
Swimmers should already be comfortable swimming front stroke and swimming on their back.
Swimmers will work on: gliding, freestyle with side breathing, backstroke, breast stroke and dolphin kicks, retrieving objects in deeper water, treading water, jumping into deep water and compact dives.
Level 4, Ages 7-8+: Stroke Improvement: Goals:
Swimmers should already be able to: swim front and back crawl 25 yards.
Swimmers will work on: rotary breathing, freestyle, backstroke, elementary backstroke, scissors kick and sidestroke, whip kick and breaststroke, intro to turning at wall, treading water with modified scissors, and diving in kneeling position.                                         
---
Private Parties Kids/Adults
2 Hours with lifeguard $180.00  Additional charges may apply.  Book a party and receive a FREE one-time family swim pass (to keep or to share)!
PLEASE CONTACT Cathy Foutch WITH ANY QUESTIONS @ 773-7187 OR mtp@vacvt.org
---
 If inclement weather, please dial 773-7187  and listen for pool closings and/or cancellations or check our facebook page or our website.
---