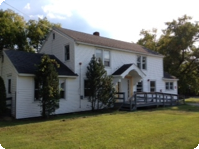 Mandala House (womens)  is located on the VAC campus,
S
anctuary House (mens), located at 30 Washington
Street are comprehensive long-term Transitional Housing programs designed specifically for adult men and women 18 years of age and older who are under the supervision of the VT Department of Corrections and are in need of a safe, stable and secure re-entry environment. All residents have a collaborative case plan between Rutland Probation and Parole and the perspective transitional house.
The model Graduated Transitional Living Environment offers residents the opportunity to succeed and remain in the community. Their physical, mental and emotional issues are addressed at the same time as housing, education and employment. Staff members and case workers are available 24/7 to provide resources to help the women and men move forward in their re-entry process.
Caitlin Cassidy/Mandella House
CCassidy@vacvt.org
802-772-7802
Justin Hofmeister/Sanctuary House
justinhsanctuary@gmail.com
802-855-8015